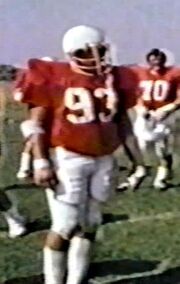 Bob Dierzak was drafted No. 404 overall by the Tampa Bay Buccaneers for the sole reason that he started 3 seasons in college at Utah State under head coach 
Paul Kreuger
 who would become the Bucs' assistant coach in 1976 and GM in later years. He never played in the NFL aside from suiting up for the first game in franchise history against the Los Angeles Rams. 
Ad blocker interference detected!
Wikia is a free-to-use site that makes money from advertising. We have a modified experience for viewers using ad blockers

Wikia is not accessible if you've made further modifications. Remove the custom ad blocker rule(s) and the page will load as expected.