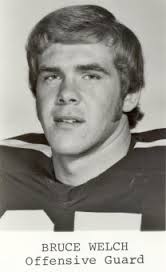 Bruce Welch was a former NFL guard/center drafted by the Buccaneers (Pick No. 238/1976). He was an honorable mention for All-American with the Texas A&M Aggies, but did something mysterious to lower his draft position (presumably on drugs). He suited up for the first pre-season game against the Los Angeles, but did not play a down, making him probably the Bucs' first bust ever and only expansion bust.
Ad blocker interference detected!
Wikia is a free-to-use site that makes money from advertising. We have a modified experience for viewers using ad blockers

Wikia is not accessible if you've made further modifications. Remove the custom ad blocker rule(s) and the page will load as expected.