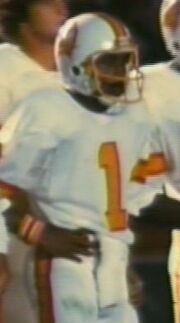 Carl Roches is a former NFL kickoff returner who was with the Tampa Bay Buccaneers during their 1976 expansion season, but only in training camp and four preseason games. He is one of the few early Buccaneers who went on to success with another team. He made the Houston Oilers roster in 1980 after five seasons away from the NFL and spent five seasons there and was part of 1985 New Orleans Saints as a specialist punt and kick returner. He only ever caught four receptions in his entire NFL career, all of them coming in 1984, a single season. Played in the first four pre-season games and was then released from Tampa Bay.
Ad blocker interference detected!
Wikia is a free-to-use site that makes money from advertising. We have a modified experience for viewers using ad blockers

Wikia is not accessible if you've made further modifications. Remove the custom ad blocker rule(s) and the page will load as expected.