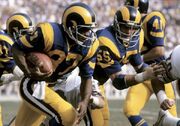 Dwight Scales was former NFL wide reciever and WB draft pick (Pick No. 155/1976) for the Tampa Bay Buccaneers expansion team. He was involved in a trade the Bucs used to get linebacker 
Jim Peterson
 , which was a poor trade, as Dwight Scales had more than 1,000 recieving yards in his 8-year career and averaged 20 yards on 56 receptions, and would have most likely made a name for himself as the Bucs' best deep threat. He was notable on making big plays, he even scored a 80-yard reception.
Ad blocker interference detected!
Wikia is a free-to-use site that makes money from advertising. We have a modified experience for viewers using ad blockers

Wikia is not accessible if you've made further modifications. Remove the custom ad blocker rule(s) and the page will load as expected.