Joe Blahak
Joe Blahak against the San Diego Chargers

Vital statistics

Position
Right cornerback
Height
5'10"
Weight
188 lbs.

Games/Pass Defense

Games Started-Played
1-2
Interceptions-Yds-TD
0-0-0
Lng. Int Ret.
0
Passes Defended
1

Fumbles

Forced Fumbles
0
Fumble Recoveries-Yards-TD
0-0-0

Sacks & Tackles

Tackles
4
QB Sacks
0.0
Joe Blahak is a former cornerback who played for the Tampa Bay Buccaneers in 1976. He is aormer 8th round pick of the Houston Oilers in 1973 out of Nebraska and came to the Bucs from the Minnesota Vikings in the 1976 veteran allocation draft. He played in the first two games of the expansion season of 1976 and started the opening game in franchise history against the Houston Oilers at right cornerback. He was released after those appearances and was picked up by the New England Patriots later in the season, where he appeared in two further games during the 1976 season including the Bucs' final game of that season. He played 12 games for the Minnesota Vikings in 1977, the following season and was then gone from the NFL for good. (Yes, literally for good.)
Appearance
Edit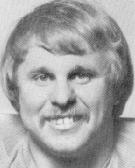 From the mugshot to the right, Joe Blahak has blonde-brunette hair small eyes, diagonal eyebrows, squinty nose, dumples, and big teeth. 
Ad blocker interference detected!
Wikia is a free-to-use site that makes money from advertising. We have a modified experience for viewers using ad blockers

Wikia is not accessible if you've made further modifications. Remove the custom ad blocker rule(s) and the page will load as expected.