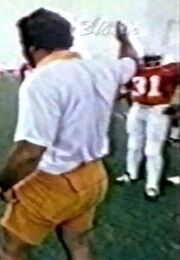 Mishael Kelson is a former cornerback and 5th round draft pick who never played a down for the Buccaneers during the regular season or in the NFL at all. He attended Pheonix/Arizona Junior Colege football and had 7 interceptions before attending West Texas State. Even though he didn't play in the NFL, he played the entire pre-season in the Buccaneers' secondary at cornerback, had an interception for 40 yards and batted down 4 passes.
Other Information
Edit
Height/Weight: 5'11"/184 lbs.
No. 31
Ad blocker interference detected!
Wikia is a free-to-use site that makes money from advertising. We have a modified experience for viewers using ad blockers

Wikia is not accessible if you've made further modifications. Remove the custom ad blocker rule(s) and the page will load as expected.