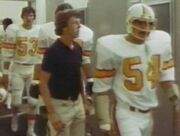 Steve Colavito was an undrafted linebacker who played four games with the Eagles late in the 1975 season, before being released, and claimed off waives by the Buccaneers. He never played again in the NFL after being released by the Buccaneers but did suit up for most of the 1976 pre-season games for the orange and white, and had 4 tackles in that time.
Ad blocker interference detected!
Wikia is a free-to-use site that makes money from advertising. We have a modified experience for viewers using ad blockers

Wikia is not accessible if you've made further modifications. Remove the custom ad blocker rule(s) and the page will load as expected.